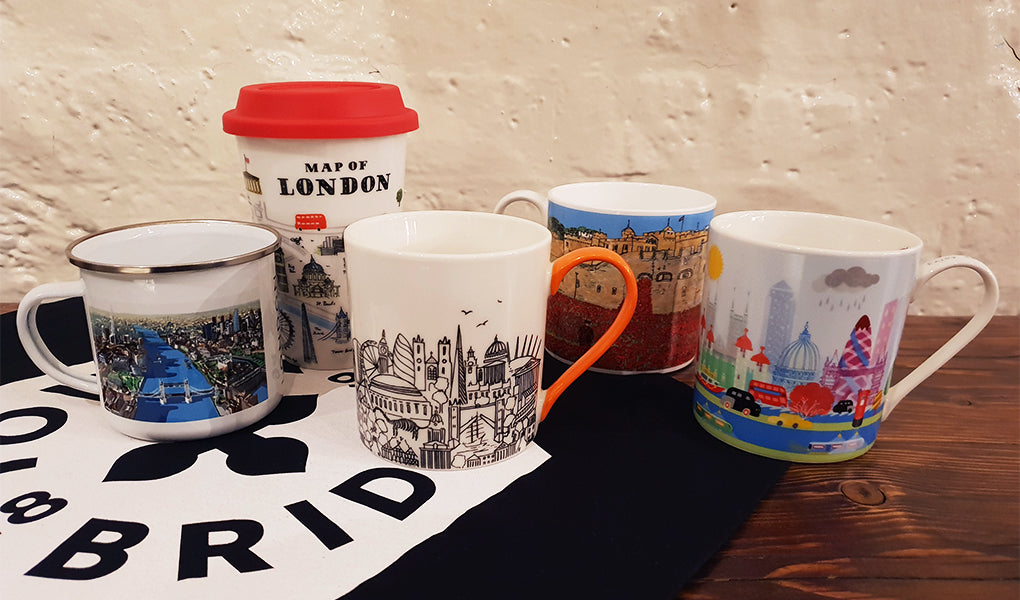 5 London Inspired Mugs To Enjoy Your Brew
Amidst the falling Autumn leaves you can probably find a Tower Bridge staff member enjoying a nice warm brew. If you're anything like us then you'll want a mug adorned with heritage sites and old timey illustrations. So without further ado here are our top 5 London inspired mugs!
Sketch London Mug
The Sketch London mug features a striking orange handle reminiscent of the Autumn palette. A pen style illustration of the London skyline wraps around the mug itself. This is our first pick as it's smart, handsome, and not too loud. A great mug that will fit into any setting.
Nicola Metcalfe Mug
For something with a bit more colour and levity we have this style from Nicola Metcalfe. The handle has the phrase 'Enjoy the view while you wet your whistle!' which we're sure many of you will.
Emmeline Simpson Poppies Mug
As of writing the First World War centenary is coming up. The Emmeline Simpson mug depicts the iconic poppies exhibited at The Tower Of London back in 2014. This is one of our favourite mugs for being a beautiful piece of rememberance. 
Richard O'Neill Tower Bridge Mug
If traditional mugs aren't what you're looking for then try this Richard O'Neill one. Just like the classic camping styles, this is an enameled metal mug. The sides are adorned with retro illustrations of Tower Bridge and London.
Alice Tait Landscape London Ceramic Travel Mug
Our last pick is for those who want coffee to go. Alice Tait presents a ceramic travel mug wonderfully decorated with the iconic sites of London in a charming style.
That's all! If these aren't to your taste then please do have a browse of our Mugs page for more styles.