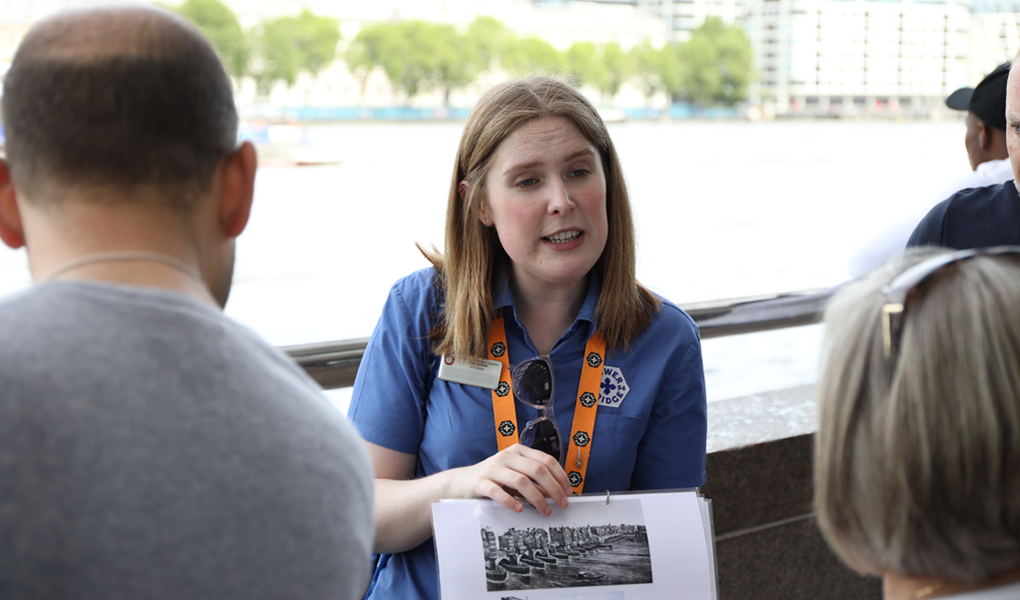 Walking Tours In June: Exploring London's Heart
As part of Tower Bridge's 125 year anniversary, our accredited tour guides will be hosting special guided walking tours along the Thames during the month of June. For centuries the Thames was London's lifeblood and the Pool its heart. Join us in exploring its architecture, history, art and legends as we celebrate Tower Bridge as the gateway to the Heart of London.
The tour will take guests through landmarks such as Tower Bridge, City Hall, Hay's Galleria, London Bridge, Billingsgate, Customs House, and the Tower of London. Stories from the city's founding to present day will illustrate the pivotal role of the river on London's existence and growth.
Selected tours will have British Sign Language (BSL) interpretation and are open for all to attend.
Attendees with mobility requirements can advise our tour guides at the start of the tour or alternatively contact us at enquiries@towerbridge.org.uk in advance. Tours may be adapted accordingly to suit these requirements.
When: Fridays, Saturdays and Sundays throughout June 2019. Tours start at 10:00, 13:00 and 15:00.
BSL interpreted tours: 13:00 on Saturday 1 June, Saturday 8 June and Saturday 29 June.
Duration: 90 minutes guided tour.
Walking Distance: Approximately 1.6 miles (2km).
Cost: £5.
We're very proud of these tours and hope our visitors can experience them as part of our anniversary festivities. However, we understand not everyone will be able to attend and as a result we have compiled a list of recommended books below from our gift shop.
The London Thames Path by David Fathers: An alternative walking route to ours consisting of almost 40 miles (64 km). Readers can undertake this route in their own time or enjoy it as a book filled with interesting facts on all the notable sights between Putney Bridge and the Thames Barrier.
The Thames Through Time - A Liquid History by Stephen Croad: The past 150 years of the river are illustrated with rare photography obtained from Historic England's archive. These breath-taking historical photos takes the reader on a journey along the river and through time.
River Thames - From Source to Sea by Steve Wallis: The Thames is introduced as a whole, beginning from the source in Gloucestershire, through the heart of London and finally out to the sea. This book includes a selection of photography and insight on the iconic landmarks and unexpected ones too.
Other recommendations which provide a broader history on the Thames include London's Bridges, which traces the development of bridges within the city, and also Museum of London's London: The Illustrated History a comprehensive history to the city.